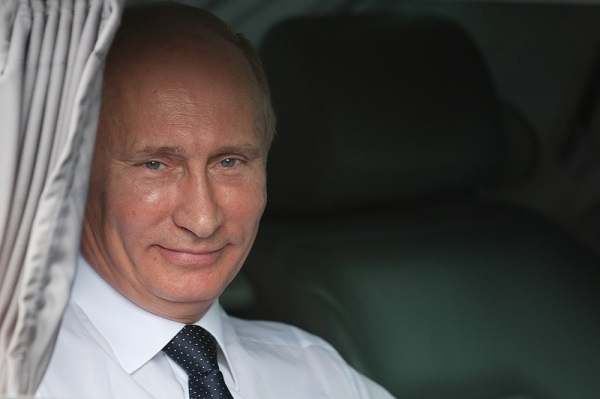 Image via
Frederic Legrand - COMEO / Shutterstock.com
A Russian man decided to pull a prank on his neighbors by hanging up a portrait of Vladimir Putin in their building's elevator.
The prank went down really well, based on their reactions caught on a security camera. The video was shared by The Moscow Times, and it showed many people dropping F-bombs and laughing after coming face-to-face with Putin's image.
The first three individuals who got inside were pleasantly surprised by the poster, with one man declaring, "They have gone f**king insane," before turning his back to the poster. The two other ladies didn't appear amused by it, and one of them described that there might be "cameras in [Putin's] eyes."
"He's surveilling us," she said.
Other strangers laughed upon seeing the photo, and another resident refused to step into the elevator when she saw Putin's face. Feeling exasperated, she raised her hands and walked away. Check out the hilarious video below.
A Russian prankster glued a massive portrait of President Vladimir Putin to the inside of a residential elevator. He then placed a camera in the elevator to record people's reactions. pic.twitter.com/dahMN83SvX
— The Moscow Times (@MoscowTimes)
February 10, 2020
Is it safe to be showing people's faces like this? How safe are these people now?
— Knitting Kris 🧶 (@knittingkris)
February 10, 2020
You can almost pinpoint the second that last guy just gives up on life
— bort (@gnarmigiana)
February 10, 2020
He knew that there were Camera's behind Putin's Eyes 🥺🤫
— Solaris (@Solaris108)
February 10, 2020
Please, someone do this with Trump.
— BevMarie (@evenbev)
February 10, 2020
February 10, 2020
[via
Insider
, opening image via
Frederic Legrand - COMEO / Shutterstock.com
]